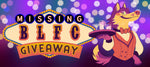 This giveaway has ended! Thank you everyone who entered. 
---
Feeling lucky? Enter our giveaway!
♥️♠️♦️♣️
We had to cancel attending BLFC this year. Delta got top surgery on October 3rd and he's healing really well! However, we had plans to drive from Atlanta to Reno, and with him still recovering we had to make the decision to stay home.
BLFC is one of our favorite cons, so we're bummed and definitely missing our friends and fellow vendors. While we've been feeling so nostalgic, we decided to host a giveaway! 🎲🎲
We're hosting the giveaway on Twitter, Instagram, and Bluesky. Each giveaway has the opportunity to have 3 different winners. If we're lucky enough, that's 9 prizes to go around! 🏆
Thanks for reading, and good luck to those who enter!
Enter to win on: