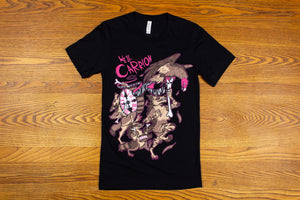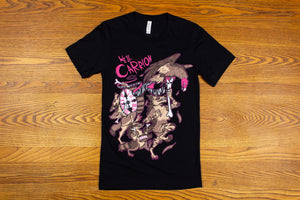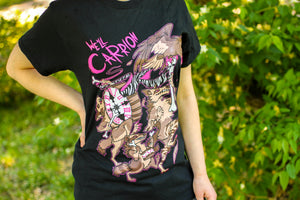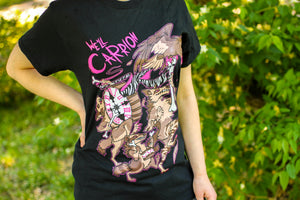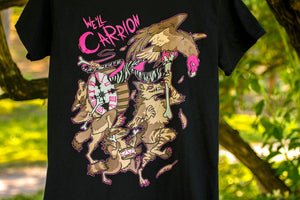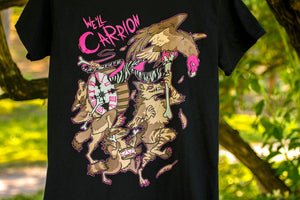 On Sale
Black "We'll Carrion" Tee Shirt
Super soft and comfortable! These tees are Bella+Canvas brand, made with 100% pre-shrunk cotton with a tear away label on the inside nape. They're printed with plastisol ink that won't fade in the wash, and the extra large print is strikingly vibrant. 
For washing instructions, you can visit our FAQ.
Our model is 5'1" (~155 cm) and approximately 110 pounds. They are pictured wearing a size Small.
The shirt was incredibly soft and comfortable to wear, and the print was extremely vivid and high quality!
SO PAINT IT BLACK AND TAKE IT BACK
LETS SHOUT IT LOUD AND CLEAR
DEFIANT TO THE END WE HEAR THE CALLLLLL
Black "We'll Carrion" Tee Shirt
Vivid Colors, Hold up well to washing
We have a joke in my house that I'm a bit of a simp for Camp Howl products. I have been wearing tank tops for roughly five years now and have purchased a hoodie, waist pack, lanyards, stickers, full prints, screenprints, plush, you name it. From my own experience with each new release, both the quality of apparel and its longevity improve. The designs are eye-catching and well balanced, the colors used are bright and fun, very true to online photos.
Camp howl is my go-to day-to-day apparel at this point so I can promise it gets a lot of love, has seen a lot of spills, and gets a lot of washes. I usually make a tradition of picking up a shirt or two at each con I attend where they are set up to sell, but unfortunately have been unable to this last year with the pandemic in play. Having made my first online purchase from their website im happy to say online service and shipping are top-notch too! Can't wait to stop by a physical booth again when the world and cons are able to re-open.
Disappointed
I dont know if it's just size XL and up, but I'm disappointed in the quality of the shirt. I bought a size large way back when this design first came out and the shirt quality is different as well as the print and colors. The XL is a thinner shirt which actually shows more if you are a larger person. If you hold it up in a room that has a light on you can see through the shirt. Also the print is slightly different colors. Just wasnt expecting this and honestly I'm disappointed. I thought it would be just like the Large one and it's gotten tight on me but since I liked it so much I decided to get another :(