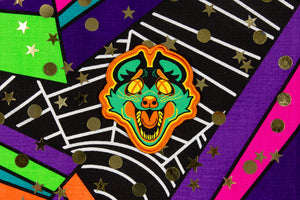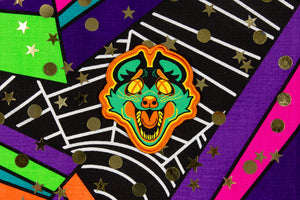 On Sale
Vintage Halloween Opossum - Iron-On Woven Patch
Patches are a great way to add your own unique style to things like jackets, hats, tote bags, pennants, and more! These patches have an iron-on backing that makes them easy to add to your garment or accessory.
This patch measures 5⅓ inches (~13½ cm) across its widest point. The design is woven into the fibers of the patch and completed with a merrowed edge.
Please read the steps below completely before adding your patch to your desired item!
Step 1) Pick your garment or item to iron your patch to. Check the tag to make sure it can be ironed, and what temperatures it can withstand. Most standard household irons can heat up to at least 350 fahrenheit (~177 celsius). We recommend adding this patch to fabric that is at least as heavy as the patch, such as denim, canvas, or other heavy cotton weaves. It is important that you do not iron this patch onto synthetic materials that might warp, discolor or burn under heat! In these cases, you must sew your patch on.
Step 2) Choose the location you would like to iron the patch onto. The location should be flat and free of obstruction such as seams, rivets, buttons, et cetera so that the patch can adhere properly to the fabric.
Step 3) Heat your iron up to its highest setting and make sure your steam setting is not on. Place your garment down on an ironing board. If you do not have an ironing board, a hard, flat surface with a towel or a few cotton tee shirts under your garment will do just fine.
Step 4) Place a thin towel or pressing cloth over the patch to protect it and your garment. Be sure not to let the patch shift during this step.
Step 5) Place the iron over the patch and press down with some pressure for 30 to 45 seconds. Keep the iron still, do not move it around during this process! Doing so may warp the patch.
Step 6) Remove the iron and towel. You can carefully check the edges of your patch to make sure it is attached fully. You may repeat steps 4 and 5 if the patch is not completely attached. If your iron is smaller than the patch, you will need to repeat steps 4 and 5 until the entire patch is secure on your garment.
Step 7) Once your patch is completely attached, remove the iron and towel and allow your patch and garment to cool completely on your ironing board.
Step 8) Enjoy your new patch!