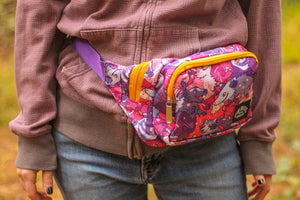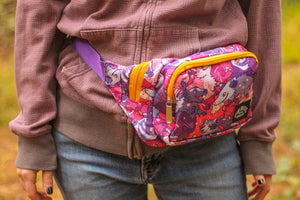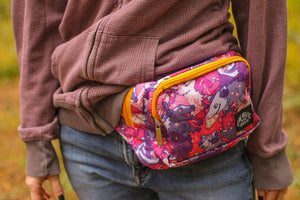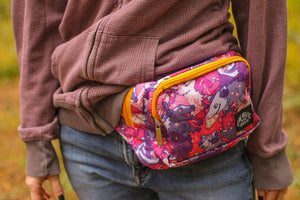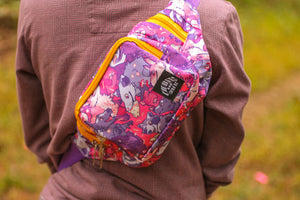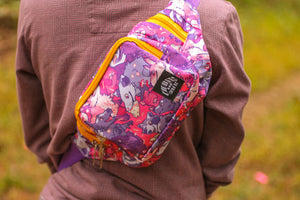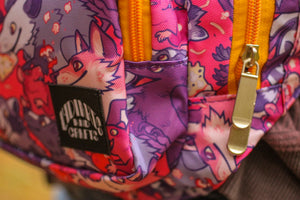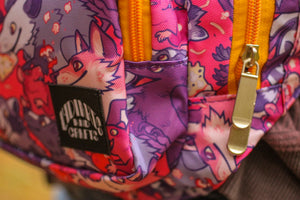 On Sale
Urban Scavengers Fanny Pack
All Fanny Packs come with one extender!
Please contact us if you need additional extenders.
Comfortable, convenient, and cute... At least we think so! These hands-free bags are far more than a 90s fashion relic, the advantages of fanny packs are endless. Perfect for dog walking and training, quick hikes, running errands, or day-to-day use! Fanny packs are ideal for keeping your wallet, keys, phone, and other essentials close to you at all times. These bags are versatile, and can be worn in a variety of ways! Wear cross-body, over your shoulder, or of course around your waist or hips.
Our fanny packs have two sections with one internal zipper pocket in the main compartment. The front compartment measures ~6 by 7.5 inches (~15x19 cm), while the main measures ~6 by 14 inches (~15x35 cm). The interior pocket measures ~4 by 7 inches (~10x18cm). Both compartments comfortably expand outward!
SIZING INFORMATION
We appreciate that bodies come in all shapes and sizes, so we have come up with a solution to make sure all* people can enjoy these bags! Our bags are all manufactured with the same size strap, but for those who need additional length will be given extenders made to match for an uninterrupted look.
We advise carefully measuring where you intend to wear your bag and then consulting the chart below.
| | | |
| --- | --- | --- |
|  Number of Extenders | Measurement (in Inches) | Measurement (in Centimeters) |
| 0 | 21 - 38 in | 53 - 96 cm |
| 1 | 42 - 60.5 in | 106 - 153 cm |
| 2 | 64 - 83 in | 163 - 210 cm |
*If you personally fall in between one of our available sizes, we recommend altering the strap! This can be achieved with double sided hook and loop tape, using a similar method shown in this video.

For a more permanent solution, we recommend hiring a local alterations business to take in the strap.
It's wonderful. I have already have the face mask and hoodie to match it.
Love the design. It's very well made, as have been the other items I've purchased in the past. Good quality material, and plenty of room inside.
Great for suiting
Used to hate how Fanny packs looked. Made fun of them. I still don't like the term Fanny pack so I'll say "fursuit utility bag". So nice having my wallet and phone in paws reach. Normally I use a backpack but it's such a pain to take on and off. Love this bag. Perfect size for absolute necessities and camp howl was easy to interact with at Anthrocon. Great staff. Great product.
Review for Urban Scavengers Fanny Pack
Review for Urban Scavengers Fanny Pack