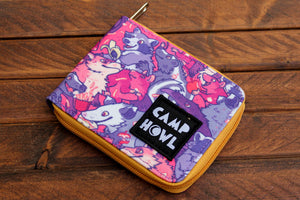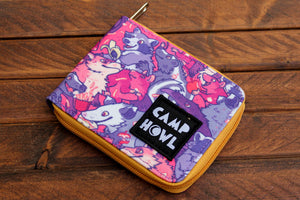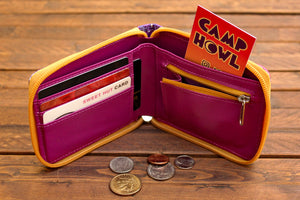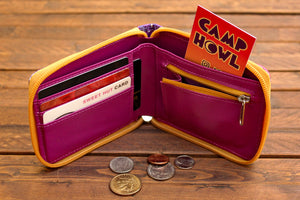 On Sale
Urban Scavengers Bifold Zipper Wallet
These wallets are traditional bifold style with a zipper closure to keep all of its contents safe. While closed and empty, they measure ~4½ by 3 ⅝ inches with a depth of ~¾ of an inch. (~11½ x 9⅕ x 2 cm). Inside is a pocket for paper money, three easy access card slots, three slip pockets, and an expandable coin pouch with zipper closure. 

Solid wallet
Well put together, sturdy, I was worried the zipper couldn't hold my keys on a key ring but the thing is way sturdier than I expected. The only downside is that the print came a bit faded, not that it was splotchy, but that it was grayer than expected compared to the hat I own with the same pattern (I bought it years ago)
Definitely a worthwhile purchase and I'll probably buy a backpack from here whenever I save cash and they are available
Perfect!
This wallet is the perfect size for sitting in back pockets! The artwork is adorable, and the internal features allow for the perfect fit for cards, cash and change. I also feel more confident in it due to the zipper that allows for the wallet to be fully closed, which won't risk cards or cash falling out. I love how it brings out my personality and love for warm blooded critters, and I can't wait to start using it <3
Ive been wanting a new wallet for a while and this one is just perfect!! Its a bit large but fits well in my bag, and the print looks amazing!! Very durable feeling, I don't think I'll need another new one for a long time!