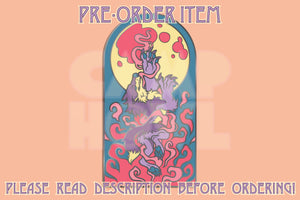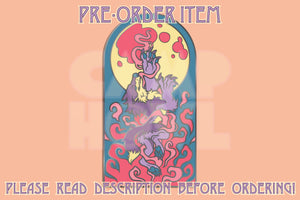 On Sale
*PRE-ORDER ITEM* Transformation - Hard Enamel Pin
* THIS IS A PRE-ORDER ITEM! *
Please read entire description before ordering!
Thank you for supporting Delta get Top Surgery! 
By purchasing this item you acknowledge that it will ship after production is finished, and that all items in the same order will ship together.
If you wish to receive non pre-order items earlier, you must place two separate orders. 
Production for all Fundraiser Pre-Order items will begin in early 2024. Please follow our socials and subscribe to our mailing list for updates on production!
-----
Take a little bit of art with you with one of our enamel pins. These pins can be displayed on corkboards or pennants as part of a collection, or travel with you on backpacks, hats, jackets, or lapels for a classic look. Enamel pins are a fun and versatile accessories that are made to last.

This pin measures 3 inches (~7½ cm) across its widest point and is plated with black nickel. On the back are two posts with butterfly clasps for easy fastening. We recommend locking pin backs for those looking for a stronger backing, which can be bought from many online retailers.
Please be aware that we are dedicated to reducing waste in our packaging, therefore all enamel pins are shipped in the bag supplied by the manufacturer with no backing card. Thank you for understanding!