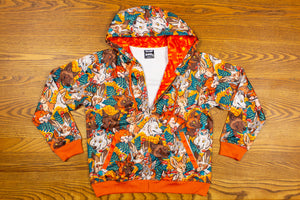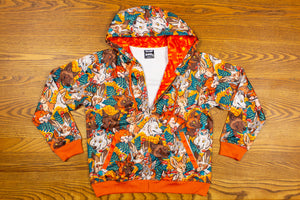 On Sale
All Over Print Fox Hoodie
Our hoodies have been redesigned and are better than ever! 
All of the changes we made were based completely off customer feedback over the last several years. Thank you all for your support and for helping us grow!
What's new?
Slick polyester that won't pill
Hidden metal zippers
Interior slit pockets
Printed label with washing instructions
CAMP HOWL lined hood
I really recommend this hoodie
I really want to to recommend this company and this hoodie
The hoodie is VERY high quality, the colors are so vibrant and the shipping was very fast
I definitely can't wait to wear it more <33
All Over Print Fox Hoodie
SO ADORABLE!! 🥰
OMG I love this hoodie so much. It's my new favourite by far. It's so adorable and cute. I love foxos so this is like the best thing ever! uwu
Better than I could have hoped!
I love my new hoodie, the print is spectacularly vibrant and the material is very soft and smooth. Foxes, fungi, and ferns are all frequently found where I live, so the pattern was too perfect to pass up.
I've only had the hoodie for a couple weeks and I've gotten a lot of compliments already. I'm definitely going to be picking up more all over prints in the future as Camp Howl introduces more designs! =^.^=