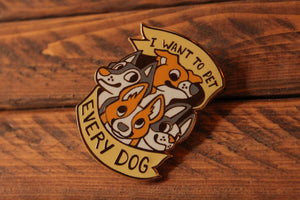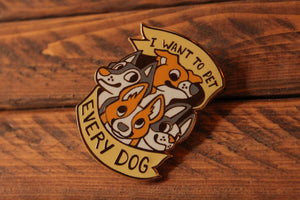 On Sale
I Want to Pet Every Dog - Hard Enamel Pin
Take a little bit of art with you with one of our enamel pins. These pins can be displayed on corkboards or pennants as part of a collection, or travel with you on backpacks, hats, jackets, or lapels for a classic look. Enamel pins are a fun and versatile accessories that are made to last.

This pin measures 2 inches (~5⅒ cm) across its widest point and is plated with gold. On the back are two posts with butterfly clasps for easy fastening. We recommend locking pin backs for those looking for a stronger backing, which can be bought from many online retailers.
Please be aware that we are dedicated to reducing waste in our packaging, therefore all enamel pins are shipped in the bag supplied by the manufacturer with no backing card. Thank you for understanding!
I Want to Pet Every Dog - Hard Enamel Pin
Pet ALL THE DOGS!
Lovely, well made, nice and secure fit.
this is a gift and has not been opened.
Cutest pin ever! Bought one for my sister as well as for...
Cutest pin ever! Bought one for my sister as well as for myself since we both love dogs. The pin is well constructed and has two fasteners to ensure it stays put and never spins. Thanks for the quick shipment!
Review for I Want to Pet Every Dog - Hard Enamel Pin