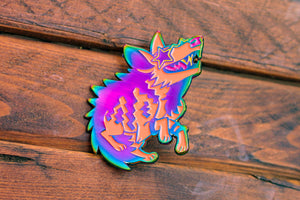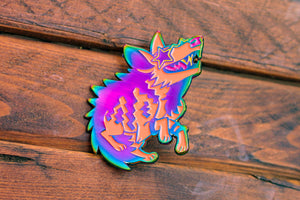 On Sale
Hyped Hyena - Soft Enamel Rainbow Pin
Take a little bit of art with you with one of our enamel pins. These pins can be displayed on corkboards or pennants as part of a collection, or travel with you on backpacks, hats, jackets, or lapels for a classic look. Enamel pins are a fun and versatile accessories that are made to last.

This pin measures 2 inches (~5⅒ cm) across its widest point and has anodized plating. Coloration varies on these pins due to the anodizing process. On the back are two posts with butterfly clasps for easy fastening. We recommend locking pin backs for those looking for a stronger backing, which can be bought from many online retailers.
Please be aware that we are dedicated to reducing waste in our packaging, therefore all enamel pins are shipped in the bag supplied by the manufacturer with no backing card. Thank you for understanding!
Love the art & great quality
Camp Howl is everything I love, Halloween, bats, hyenas, etc what more could I want? The pin fits perfectly in my collection. I look forward to my next purchase.
Great
The only thing is that my wrist is a bit too tiny for the wristband but other than that 5/5
Hyped Hyena pin
it was a gift for my wife. She absolutely loved it! She pinned it to her denim vwst immediately and wears it proudly! Great quality! Would recommend
Awesome Pin, Top Quality.
Great pin! The design is wonderful and it's well made. I...
Great pin! The design is wonderful and it's well made. I bought it as a gift and I'm sure it'll last my friend a while