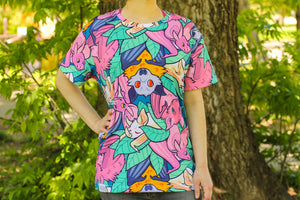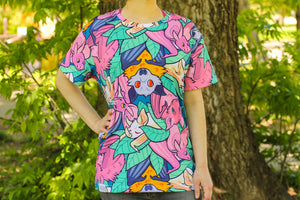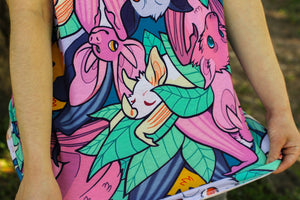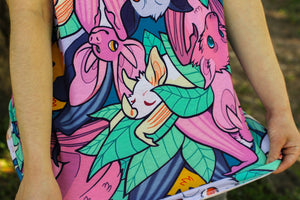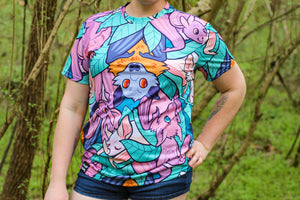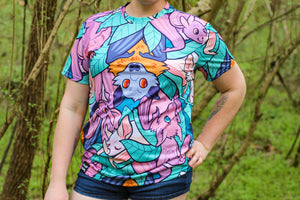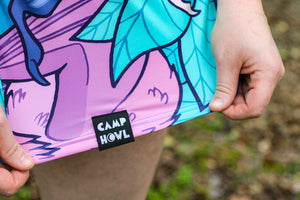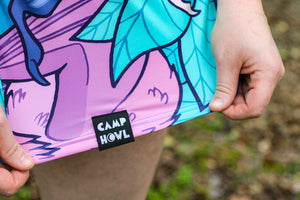 On Sale
*FINAL STOCK* All Over Print Bat Tee Shirt
Please read this page in its entirety before buying.
We cannot accept returns or exchanges on final stock items!
We are clearing out our remaining stock of original shirts! Version 1 (V.1) and Version 2 (V.2) are made of different synthetic fabrics, so please reference the size chart and sensory notes before purchasing!
These shirts are soft and vibrant. Both are made from synthetic blends that won't shrink in the wash! For washing instructions, you can visit our FAQ page.
Don't see your size? We have brand new shirts you can browse here!
For washing instructions, you can visit our FAQ.
Our model for the V.1 Bat Shirt is 5'1" (~155 cm) and approximately 110 pounds. They are pictured wearing a size Small. (Seen in photos 1-2)
Our model for the V.2 Bat Shirt is 5'7" (~170 cm) and approximately 185 pounds. She is pictured wearing a size Large. (Seen in photos 4-5)
Bat is where it's at.
Got this for my Mother in Law for her Birthday, she loves bats. It is colorful, vibrant, fun and super cute. She is going to love it.
I love it!
Nice material that is used to make the Tee Shirt, colourful & nice fit!
Super Amazing
I love this shirt so much. The comfort is amazing. Also the art is so beautiful!! I approve of this shirt not only because my fursona is a bat... But it is so pretty, comfy and cute :)
Bats! Bats!! Bats!!!
Only a few loose strings, but otherwise a great and comfy shirt. Colors look as-advertised, and as long as they're washed with like colors it'll last a lifetime.
A worthy investment if you like bat-related merch!
Review for All Over Patterned Bat Tee Shirt