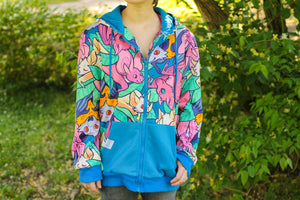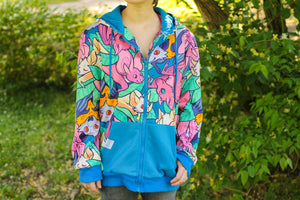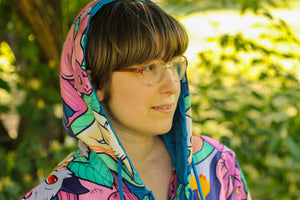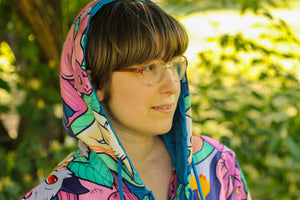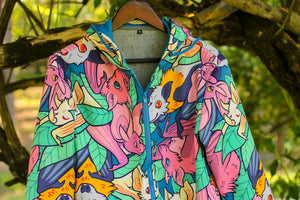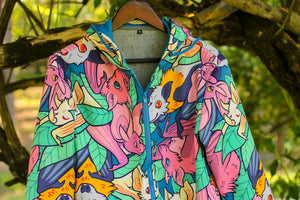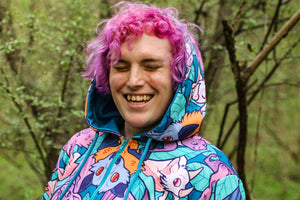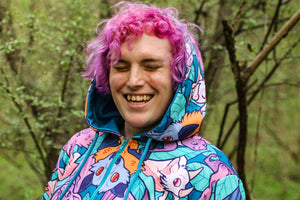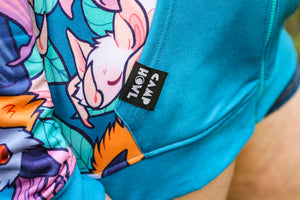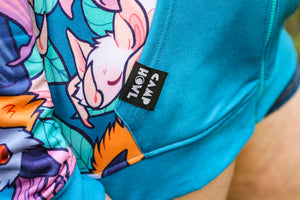 On Sale
*FINAL STOCK* All Over Print Bat Hoodie
Please read this page in its entirety before buying.
We cannot accept returns or exchanges on final stock items!
We are clearing out our remaining stock of original hoodies! Version 1 (V.1) and Version 2 (V.2) are made of the same materials but are constructed a bit differently, so please reference the size chart before purchasing!
These hoodies are soft, warm, and colorful. Made from a synthetic blend that won't shrink in the wash, but still has a soft as cotton touch. For washing instructions, you can visit our FAQ page.
Don't see your size? We have brand new hoodies you can browse here!
---
Our model for the V.1 Bat Hoodie is 5'1" (~155 cm) and approximately 110 pounds. They are pictured wearing a size Small. (Seen in photos 1-2)
Our model for the V.2 Bat Hoodie is 5'7" (~170 cm) and approximately 185 pounds. She is pictured wearing a size Medium. (Seen in photos 4-6)
Awesome!!
The hoodie is really comfy, the size is perfectly big and the materials feel so nice! Would absolutely recommend!
BAT HOODIE
The size of the hoodie is perfect. Nice and long on the arms and torso, without it being too wide. It fits nice and comfortably, and super warm and snug too. The print of the bats are adorable as well. This hoodie is amazing! Thanks a tonne!
BATS!
I love bats! Thanks for being one of the few furry merch makers that makes bat merch! I love them, and the hyenas too, keep up the good work! Oh and in terms of the actual hoodie's quality, I love it! I have three different patterned hoodies from y'all and they're amazing! I'm always astounded by how vibrant in color they are, and the print looks so high-quality!
Cute and soft (but runs big)
This hoodie is great--I do wish I had taken the size chart more seriously and ordered an x-small (which was more in line with the measurements of my hoodies). Instead, I ordered a small which is what I usually wear in unisex clothes. But this small is as roomy as a typical medium.
Still, I'm very happy with it! The pattern and colors are just as they appear in the pictures, and is comfortable and soft. Easy to roll up sleeves and hood stays up nicely.
Bats in the hood ie.
It's super cute, warm, soft, and did I mention cute! 11/10 would cuddle.